If you work in the food and beverage industry, you are likely very conscious of ISO compliance and food safety initiatives. That's why you need to know about our heat exchanger plate leak test — especially now that the FDA is cracking down on the food and beverage industry with more stringent safety rules to combat growing concerns of food-borne illnesses. In fact, the FDA says processed foods that are covered by these new rules cause about 903,000 food-borne illnesses every year, costing the American public $2.2 billion, according to FoodHACCP.
Rising Risk of Food-Borne Illness
So what does all this mean to you? Since the FDA is tightening its requirements for food manufacturers, now's the time to invest in equipment that can make the food you produce and sell the safest it can be. Over the last few years, the incidence of food-borne illnesses due to factors like dirty food processing equipment and poorly-designed manufacturing plants has been staggering out of control. People are getting very sick and even dying all across the country due to contaminated food. In fact, the CDC says one in six Americans (or 48 million people) get sick and 3,000 die of food-borne diseases every year in the United States.
The Solution: Heat Exchanger Plate Leak Test
Here at DraCool USA, we have a solution to these concerns in the form of our heat exchanger plate leak test. First, though, what is a plate heat exchanger used for? They serve many roles within many industries. For example, within the food and beverage industry, exchangers are critical in dairy production in regards to pasteurization of milk and cream, as well as ultra-high temperature sterilization (UHT). Pasteurization basically is the process whereby foods are heated to a set temperature for a given amount of time in order to kill off any microorganisms that may be present which could cause disease or spoilage. Other industries where heat exchangers are critical include marine, industrial energy, power plants, HVAC, and ethanol and corn processing.
Let's go over some answers to FAQS about the heat exchanger plate leak test.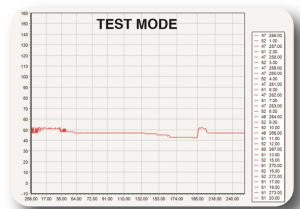 Why should I test my plate heat exchanger (PHE)?
DraCool's plate leak test is designed to detect cracks and pinholes as small as five microns in your plate heat exchanger — meant specifically for the food and beverage industry to prevent food-borne illness by identifying and eliminating cross contamination. By running periodic tests, you can assure your company and your customers, as well as the FDA, that you are meeting the new regulations for food safety.
How does the leak test work?
Our H2 system is a water integrity test that is able to pinpoint defects as small as five microns. One side of the exchanger is filled to 3 Bar (45 psi) and the other is filled to atmospheric pressure, all with no stress to the plates or gaskets. The H2 monitors flow in milliliters per second via sensors that transmit data to a hand-held device which creates graphs based on the information, recording the size of any defects found. Real-time results are saved to a jump drive which is provided online to the customer. Certification follows through a mailing to the customer in less than a week.
How much downtime will there be?
Our H2 system can examine both sides of the plate heat exchanger in about an hour per section, compared with many hours using traditional methods and electrically-operated equipment.
How accurate are the test results?
Our H2 test method features proven University validation through laser-drilled test holes, verified independently with the use of a scanning electron microscope. Because testing is done under real process conditions, we can guarantee accurate results.
Why should I choose DraCool USA?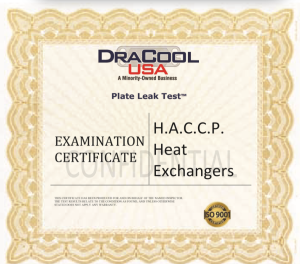 We are a trusted and experienced company with a reputation of excellence over the last 50 years. Our knowledgeable and professional technicians are proficient and continually trained in our state of the art offerings/facilities. We offer 24/7 emergency service and we boast in-house manufacturing capabilities featuring steel made in the United States, as well as an exclusive inventory of replacement plates and gaskets.
To learn more about our products and services, request a quote today!